Baseball Priority Seating
Thank you for your support of Ole Miss Athletics as we approach the 2022 Baseball season.
Season ticket renewals are due before October 31, 2021 in order to be included in the online seat selection process. Seat and parking locations are based on season ticket holders' 2020 location. If you did not have tickets in 2020, you will be selecting seats based on red priority points and availability.
New season tickets may be purchased at this time. Requests for new baseball season tickets will be filled through the online selection process in November 2021.
Club season tickets must be renewed by the October 31st deadline. All non-renewed seats in the Dugout Club, Diamond Club, and Rooftop Plaza are made available during the online seat selection process. Those interested in upgrading seats to a club area, or adding additional club seats, should review availability during their selection timeslot.
Full seating chart with per-seat donations, click here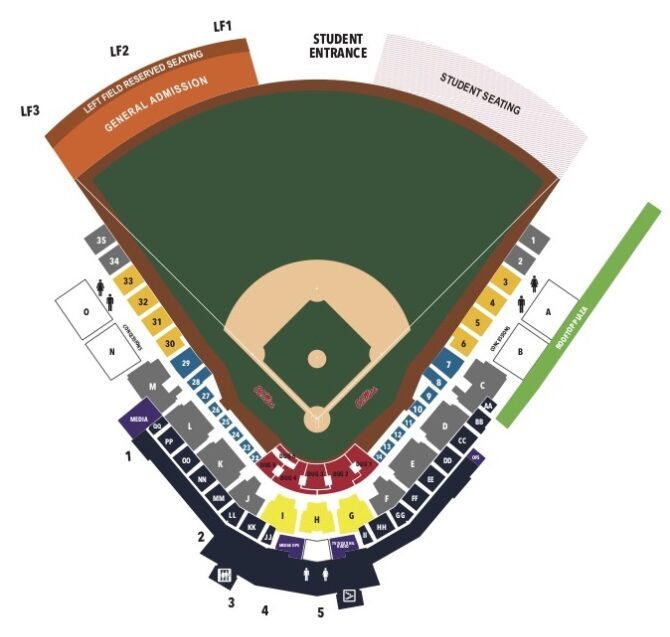 Baseball Parking
Parking Eligibility
All parking passes must be requested for $100 through the Ole Miss Ticket Office. The number of passes each Ole Miss Athletics Foundation member can purchase will be based on their annual gift to the men's basketball priority seating fund.
How To Order
Beginning on October 1, 2021, you can purchase online or by calling 662-915-7159 to speak with an Ole Miss Athletics representative.
Parking Location
All accounts that purchase parking passes by the October 31, 2021 deadline will be able to select the location of their parking pass during the online selection process. All parking selections are based off blue priority points, and availability. Baseball parking passes sell out every year, and demand exceeds quantity. No parking location request is guaranteed.
RV/ Motorhome Parking
RV parking in the South Lot can be purchased for the 2021 baseball season for $700. RV Parking amenities include a tow car pass, electric, and cable hook-ups. If you are interested in purchasing an RV Parking spot for the 2021 season, please contact the Ole Miss Athletics Foundation at omaf@olemiss.edu or 662-915-7159.
| | |
| --- | --- |
| Annual Baseball Contribution | # of Passes |
| $50-$4,999 | 1 |
| $5,000-$9,999 | 2 |
| $10,000+ | 3 |
Baseball Club Seating
Rooftop Plaza

Annual donation: $550
Capacity: 174

New for the 2019 season, the Rooftop Plaza will provide ticket holders a unique view from the first base line overlooking Swayze Field. Ticket holders will have a personal locker, access to premium concessions options, and direct line of sight to the sideboard

Dugout Club

Annual donation: $2,200
Capacity: 330

The Dugout Club provides the latest in premium area amenities and puts ticket holders right on top of the action. The exclusive club has 330 seats and gives fans a look at the Rebels as they leave the clubhouse and head to the field. Within the club area are spacious seating areas, personal lockers, TVs, private restrooms, and complimentary food.

Diamond Club

Annual donation: $1,820
Capacity: 876

The Diamond Club provides the best in premium area amenities and gives ticket holders the best view of Swayze Field. Within the club area are spacious seating areas, personal lockers, TVs, private restrooms, and complimentary food.